overview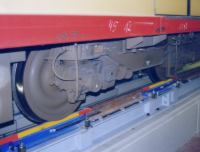 The system PRODAT RKM-S (stationary) consists of three different models to statically and dynamically measure wheel and axle loads. PRODAT as an independent supplier of complete system solutions is able to cover every aspect of the project from A to Z.
For these systems there are just minor interventions at the rail track necessary whereas the system features high sturdiness and small dimensions.
The measured wheel loads are grouped into axle and bogie loads and in addition wheel and axle load differences and masses are calculable.
All PRODAT RKM models can be equipped with hysteresis reduction devices.
setup
PRODAT models RKM-S 1000 to 3000, and its newest addition RKM-S 4000 consist of the following main components:
sedation track
weigh bridge units
measuring computer
sedation track
The sedation track is a specially designed rail track which reduces:
1. for static measurements: the influence of the rail track attitude onto the wheel load distribution is downtrodden.
2. for dynamic measurements: influences the behavior of railed vehicles in a way so that the dynamic part of the wheel load is small compared to the part of the wheel load due from the weight. In this way optimal measurement results will be reached.
force transducers
Depending on case force transducers are designed as direct measuring rail track elements or as mounting parts.
They combine in an ideal way measuring, bearing and fixing functions in a compact component. Thus fast abrading bearings and moving captivation are avoided in order to enable highest precision and accuracy as well as guarantee long product life.
measuring computers MC 10 to MC 40 in stationary and mobile variants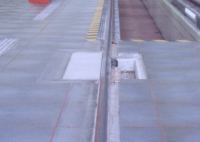 In order to enable a comfortable and intuitional usage the measuring computers are all equipped with a lcd screen to display all measurement results, status messages and operating instructions, a protected keyboard to enter data and function keys to control the operation. The whole facility is protected against wrong or unauthorized usage.
The computers are equipped with various data ports of different standards enabling full network functionality so that attained data can be processed everywhere.
The software PRODAT SO-RKM consists of a real time operation system to monitor the faultless operation, offers static and dynamic measuring as well as giving possibilities for calibration and diagnostics. It also can calculate rail vehicle masses by using the axle loads. Customer specific wishes can also be implemented.
The hardware is specially constructed for rough industrial applications, and high reliability was proven through many years of operation. Electronics and hardware are supplied in common protection classes. Through the protection against weather conditions, outdoor applications are also possible.
Options for wireless data transmissions, for example in order to use hand terminals, can be also ordered in advance.
advantages of the RKM-S series
short installation and setup time
direct measuring active force transducers without abrading bearings and moving capitations
automated dynamic or static measurement
adaptable to a broad are of installation, plant and environment conditions
every track size possible
spring hysteresis overcoming device
full support and service
types
RKM-S 1000
RKM-S 2000
RKM-S 3000
RKM-S 4000
PRODAT RKM-S 1000
The wheel load measurement system PRODAT RKM 1000 is designed for the determination of wheel loads in test bays on solid ground. Conceptual approach is simple and rugged construction. It enables dynamic and static measurement with high accuracy on one hand and on the other low investment and service costs. It is ideal measurement equipment, that proves high reliability in industrial applications.
The track consists of two force transducers, that are mounted on a steel- or concrete plate or a railway sleeper in order to create a connection with the sedation track. This design allows very short installation times.
PRODAT RKM-S variants are shippable in combination with the measurement computer MC 10 or MC 20.
PRODAT RKM-S 1000 can be operated based on real time operating system PRODAT RCOS© together with the the measurement software PRODAT RAL or as another option with PRODAT RAL NT based on Windows NT.
PRODAT RKM-S 2000
The wheel load measurement system PRODAT RKM 2000 is conceived for static and dynamic determination of wheel load differences and acting forces onto the wheels of multi-axle rail vehicles with high precision and accuracy.
advantages:
static and dynamic measurement
installation height equals track height
no welding works necessary
two special force transducers for every measurement track with very high exactitude and accurateness
through arrangement of force transducers cross forces are taken into account
measurement tracks are just one meter long
spring hysteresis device included
System is shippable with measurement computers MC 10 or MC 20. RKM-S 2000 is opera table with PRODAT RCOS© and the software PRODAT RAL or up to choice also with software PRODAT RAL NT based on Windows NT.
PRODAT RKM-S 3000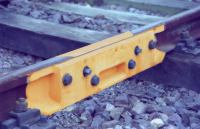 The PRODAT RKM-S 3000 was developed for the special demands of external use. This expresses itself in extremely robust measurement track construction as well as in the standard software and hardware components. The installation height corresponds to the track height, whereby the measurement track is optimally suited to the elevated or sunken (e.g. steel girder constructions). 2 precision force sensors per measurement track with extremely great accuracy on dynamic and static measurement are used. By the arrangement of the force sensor, measurement-technical lateral forces are taken into consideration. The measurement tracks have a length of only one meter. The installation contains a spring-hysteresis overcoming device.
The PRODAT RKM-S 3000 was developed for the special demands of external use. This expresses itself in extremely robust
measurement track construction as well as in the standard soft and hardware components.
Some of the system advantages:
independent of superstructure and substructure
installation in any superstructure without a separate foundation on all commercially-relevant steel, concrete or wooden ties, even in gap less track without any track-stability disadvantage
attachment to the ties corresponds to the commercially relevant standard methods
available for all commercially-relevant track and gauges
drive-over speed of up to 60 km/h
multiple measurement point systems to increase precision optionally possible
measurement track is tampable
measurement data transducers can be welded into the track
providing for extremely short installation and initiation times as
well as low investment costs
operating temperature range: -25° C to +60° C
measurement speed range: -5m/s to +5m/s
The applied PRODAT RAL Measurement Software, can be operated on the basis of the RCOS® Real Time Operating System or if desired on the basis of Windows NT. It offers numerous operations, as for example the control of statistical and dynamic measurement procedures, self-diagnosis, error recognition, wagon type recognition, gross weight determination. Optionally, remote maintenance operations and vehicle data archiving can be integrated.
application examples
keywords
wheel load measurement, wheel force measurement, stationary and mobile measuring,
dynamic and static measurement sys
determination of wheel-rail contact forces
wheel force transducers